Home People
Over the past thirty years, our people have been involved in Projects in the UK and Spain, and it is our priority to supply the right Products and Services anywhere we are required.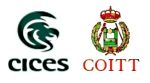 We have Geomatics and Construction Engineers registered as well as working towards registration, in the Chartered Institution of Civil Engineering Surveyors (in UK) and Colegio Oficial de Ingenieros Tecnicos en Topografia (in Spain), to ensure to our clients, our commitment to carry out any Project to the Right Standards.
We are authorized operators (CAA Permit for aerial work, and BNUCS Pilots) of Small Unmanned Aerial Systems, which enables us to gather Geometric data in a promptly and very accurate manner for many kinds of tasks.
Last Updated (Thursday, 06 December 2012 20:50)